My daughter is now a year old and transitioning into "grown-up foods". Anytime she sees someone eating, she thinks she needs to eat! It's so adorable. I'm glad she's not afraid to try new flavors and textures though it has presented new challenges. She now refuses mushy baby food and wants anything her 6 little teeth can chew.
We've tried many different products that promise to help you and your child through the various stages of feeding and I wanted to share some of my favorites.
First, the transition from breastmilk to formula wasn't as easy as I thought it would have been. Some babies will take a bottle of formula at room temperature but my daughter would not. She refused to take a bottle unless it was warmed to the perfect tempurature. When you have a crying hungry baby, waiting for the old plug-in steam bottle warmer to heat a bottle can be an agonizing 120 seconds or more! Let me introduce you to the Baby Brezza Formula Pro.
This fancy machine is an easy one step bottle maker. It mixes formula and water at the precise temperature right into your bottle all at a simple touch of a button. I lovingly refer to it as the "Baby Keurig". Here's another tip if you have a baby fussy with the tempurature of their bottle; when you're away from home and need to whip up a bottle fast, be armed with a Contigo mug (or any other travel mug that keeps liquids hot for an extended period of time) filled with hot water, some bottled water, and your container of formula. You can add just enough hot water to the mix to produce a warm bottle for your babe. The next product I found very helpful while on-the-go, The Baby Food Nurser Bottles by Sassy.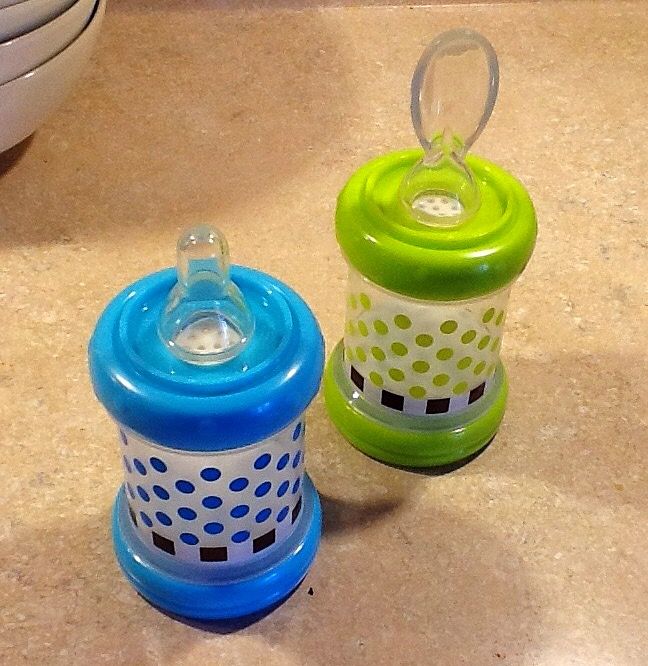 Baby can easily feed herself pureed baby fruits, veggies, cereals and more with virtually no mess right from a "bottle". As the baby sucks on the bottle, the plunger on the bottom draws upward like a vacuum so baby gets every last drop of food! Honestly the most amazing thing ever! Now to the products we're finding helpful as our daughter gets more independent with trying to feed herself. The Trainer Spoon by Munchkin is a nub with deep grooves and a safety handle.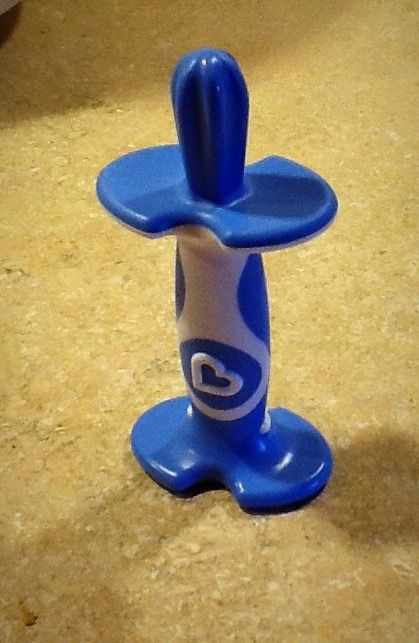 It catches and holds food in the grooves so she can feed herself from any angle with no frustration. The Stay-put suction bowls by Munchkin go hand-in-hand with the trainer spoon. The bowl sticks to any smooth surface so she can practice feeding herself without the bowl flying off her tray. When we go to restaurants we are armed with the Nuby Garden Fresh Mash 'N Feed.
That way you won't have to be stuck making sure you order mashed potatoes or mac 'n cheese with your meal. You can take anything off your plate and grind it down to a consistency that your baby can easily chew and swallow.
Lastly, the Nuby Nibbler Fresh Food Mesh Feeder has been great when introducing fresh fruits.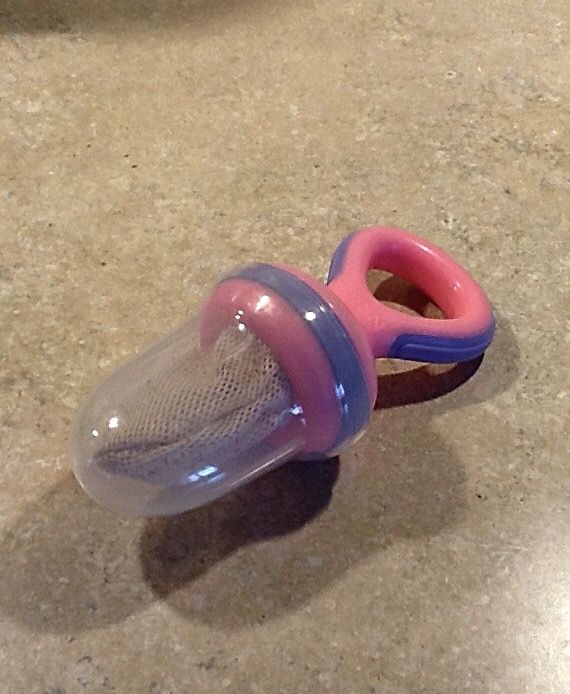 You fill the mesh pocket with bananas or any fresh fruit and just hand it over to baby. You do not have to worry about any pieces breaking off causing them to choke since skins and large pieces stay contained within the mesh. You can even freeze the fruit when they're teething to ease any gum discomfort while they enjoy a tasty treat. A win, win!