I don't know if it's every really appropriate to talk about poop, but to all the Mother's out there, I think you'll appreciate this. My daughter, at 15 months, has pooped in the potty! I think it may have been beginners luck, considering it hasn't happened since the first time, but it's an accomplishment nonetheless.
It was at my daughter's first birthday party that it was suggested I start potty training. My daughter was teetering around when she stopped and said "poop", then low and behold, she pooped in her diaper. My cousin was standing there with me watching her when this happened and she suggested I start training. The idea of potty training this early seemed crazy at first, but after a little thought, I figured I had nothing to lose. Quinn is already in size 5 diapers, so unless she stops growing, by 2 years old when most kids start potty training, she'll already be outgrown of size 6 diapers and be wearing Depends!
That evening after her party, I stopped by Walmart and bought the shortest, simpliest potty chair I could find. I set it up in the bathroom and have her sit on it everytime she joins me in the bathroom. I didn't attempt to make her actually go in the potty, just wanted her to get used to sitting on it like Mommy.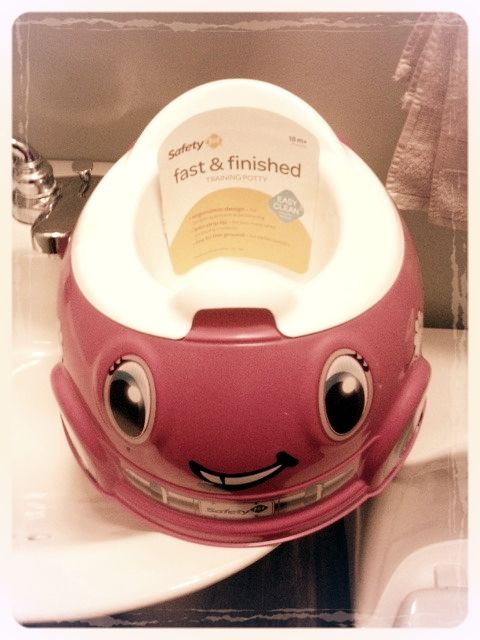 Note on this particular potty chair: height and size is perfect for a small toddler, the only thing I don't like about this potty chair is that it slides around on the tile floor. If you do not have a rug in your bathroom, I would suggest looking for a potty chair with little grippers to keep it from sliding.
She's perfected sitting on the potty so this past weekend I decided I was going to take potty training to the next level. Sitting on the potty with no pants. I don't know if the timing was just right or if she intentionally went, but she pooped on the potty the first time I sat her down! It was amazing! My first thought was, "This is going to be a piece of cake!" Well, as most experienced mother's would already know, it's not THAT easy. That was the first and only time she's used it.
This week I started scouring the internet on tips and suggestions on how to potty train a young toddler. One suggestion was to enforce a "no pants in the house" rule. This is supposed to help them become more aware of their urge or poop or pee. I'm a little nervous about trying it, but it seems to have rave reviews from one mother after another swearing this was the key to potty training. Another suggestion is to read your child potty training story books. Quinn loves to read and has learned numbers, letters, animals, and sounds all from reading her books. It's suggested that these books may help her connect the dots and better understand the purpose of the potty. Armed with these new tips and a supply of paper towels and Clorox wipes, I'm ready to go pantless and see if Quinn and I can get this potty training thing down! Wish us luck!