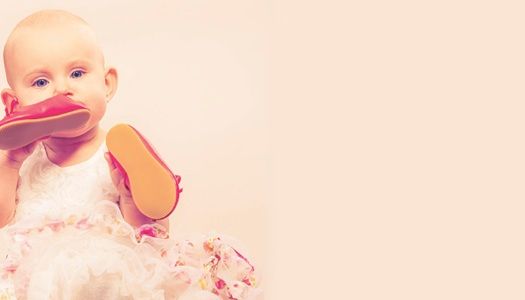 My daughter just turned a year and a half and at the rate she's growing it's blowing me away!!!
Luckily, our five nieces have blessed us with an enormous wardrobe of hand-me-downs for Quinn saving us from having to invest a small fortune in baby clothes. It has been a tremendous help!
The problem lies in the surprising rate she's growing. I have found time to take a weekend here and there to clean out her drawers and closet of outgrown clothes, only to find that a week later she barely fits in them! Now that the holidays are in full swing, finding the extra time to clean out and organize outgrown clothes and restocking with her current size has been a daunting task that I have yet to tackle. I've been limping through the process by tossing the outgrown clothes in a basket in the corner of her room to sort, then digging through totes of larger clothes hoping to quickly find something that would constitute a "cute outfit" before rushing out the door. Needless to say, the pile in the corner has grown out of control. Let's not forget the attic that's bursting at the seams with totes and garbage bags of baby attire.
I need to just go ahead, bite the bullet and organize all the clothes. The simplest solution is to bag it all up and donate it, but I feel it's my duty to make sure I can pass on the clothes to the next family as it was such a huge help to us. My husband and I are not "planning" any other children, but have friends and family that could still use these clothes in the near future.
I searched the internet for any tips that may help this task be less painful and time consuming. So, here's my plan of action:
First, I plan to take it tote by tote and split the clothes into 2 piles. A "keep" pile for a future child and a "toss" pile. Clothes to consider for the "keep" pile should be really cute and stylish for the next few years, in really good shape, and without stains. Anything else needs to go into the "toss" pile. It's not difficult for me to get rid of things but I know this may be a difficult task for others. Toss anything that is in less than perfect condition. Anything that is faded, pulled, or stained needs to go. Kids grow so fast, it's not necessary at this age to keep anything less than perfect.
After throwing away the worn out clothes, it's time to further sort the "keep" pile.
Think about it, is it really necessary to keep forty five t-shirts and fifty sundresses? If your plan is to eliminate the task of laundry for your little one, then sure, but that's an unlikely scenario for most. The goal is to trim it down to one tote per size. Feel free to set aside any sentimental pieces. Homemade hats, first birthday or home from the hospital outfits, but keep this collection small. What's left over should be donated or sold.
Lastly, we'll get rid of what's left from the "keep" pile. There are a number of options to consider. Some less time consuming, some you will need to dedicate hours, but the payoff could be large. Quickest option is to just bag up the extra clothing and donate it to your local church, Goodwill, Salvation Army, or charity of your choice. There's no cash payout, but you can feel good about helping others. If you have extra time, you could sell your items on eBay but it will require descriptions and photos of each piece for sale. There are also online consignments like thredUP.com where you simply mail in your items for cash. Once you've purged the closets and drawers of all the unwanted clothes, the trick to maintaining organization is to keep the piles small and manageable. Kids outgrow clothes so fast it's hard to keep up when you have more than you need.
Next, the toys!